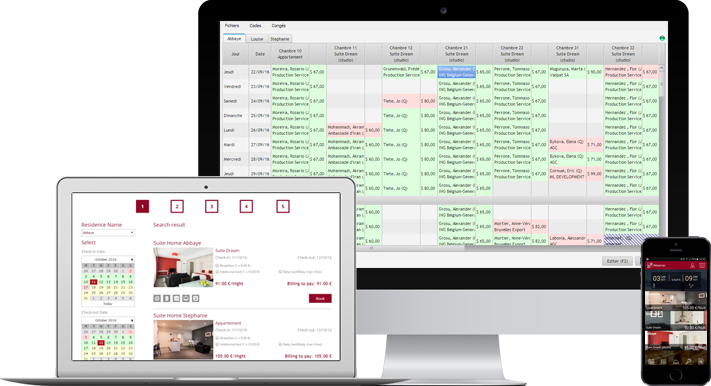 eBookingPro, what is it?
eBookingPro is a multi-hotel and multi-residency management application with or without reception.
The feature of eBookingPro is that one can manage several hotels with the same tool and each hotel may have may have several groups of rooms.
eBookingPro allows you to manage the codes of the main doors and the doors of the rooms.
Customers can receive these codes via the mobile application and / or TEXT.
This application is composed of 5 modules:

1. Online booking
If you do not have a website, we offer a complete website with a description of your services and rooms.
In any case, the online booking is provided as a completely configurable page adapted to your website.
We integrate most payment systems like PayPal, Braintree, HiPay, ... You will decide rooms and nights to put online from the back office.
The rates can be adjusted according to the number of overnight stays.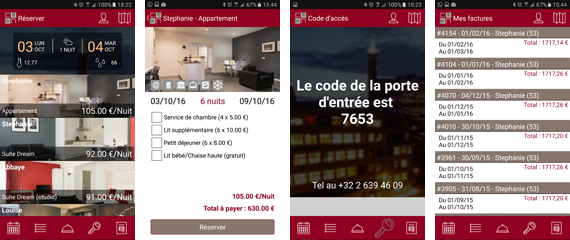 2. Mobile application
The mobile application will allow you to retain your customers.
Its appearance is adapted to your colors and the logo as well as the name of your hotel will be recorded on the various app stores.
Among the many features, there are:
A classic search module based on dates.
The display of rates according to the customer.
Your reservations in progress.
Entry codes if applicable.
The ability to send custom notifications to one or a group of clients.
A list of points of interest and relevant information that you can easily add.
The display of the list of invoices sent with the possibility of printing them.
A map that allows your lost customers to find their way back.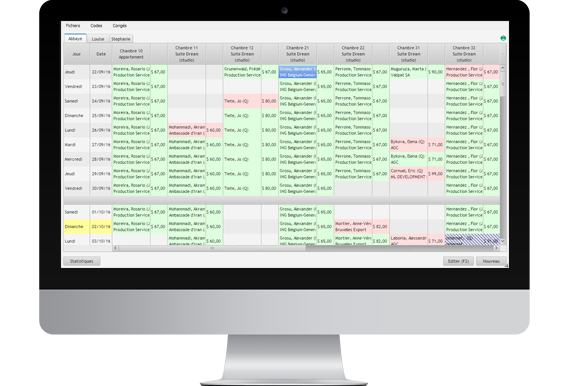 3. Management module
The management module is the central application that will allow you to manage your entire hotel.
Using this module, you will create:
your hotels (no limit),
the display of rates according to the customer.
your rooms (without limit) with the photos and descriptions,
your customers as well as their company, their desires, ...
the rates (room / client / partner / company / period),
the bills,
reservations,
door codes
Each hotel may belong to a different company. This means that billing, bank accounts and payment methods may be different.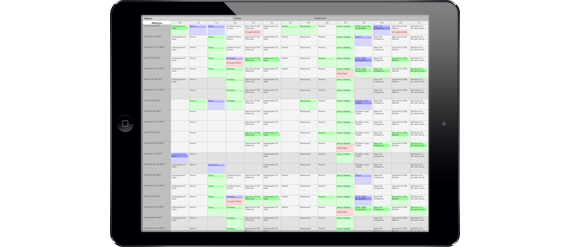 4. Household module
As eBookingPro allows the customer to choose a daily or weekly service, maintenance staff will have access, on a screen or a tablet, to all the information concerning the household and the maintenance of the rooms.
If a customer has specific requests such as a special soap, a coffee capsule or a breakfast, this information will automatically appear on the screen.
5. Extranet for travel agencies
Travel agencies can be considered partners of your hotel.
These partners all belong to "partner groups".
A price schedule can be configured for a "partner group" and all partners will have access via a website to their availability screen.
This will allow the agencies to be able to sell "airplane / hotel / tours" packages with transparency on the availabilities and prices of your hotel.